Here is the schedule for the 2011 TM Race Season at Top End Dragways (previously Interstate Dragways).
All dates are Saturdays, with the exception of the 2 day weekend which will be Saturday and Sunday. Gates open at 10am, with racing starting at 12pm and we will race until dark or whenever the majority are finished.
This year there will be some major changes at the drag strip with Charlie taking the reigns and running the show. Traction will be improved 100 fold. He is investing a lot of money into traction that will enable everyone to enjoy a Street Legal race day. There are other things you will notice around the track that will be improved, and we are very excited for this race season!
Even tho Charlie is going to add expense to each and every race day with traction compound and track improvements, we collectively feel it is appropriate to leave the 2010 rates the same. That being said:
Spectator - $7
Racer - $35
Here are the 2011 Tintmasters Street Legal Race Dates: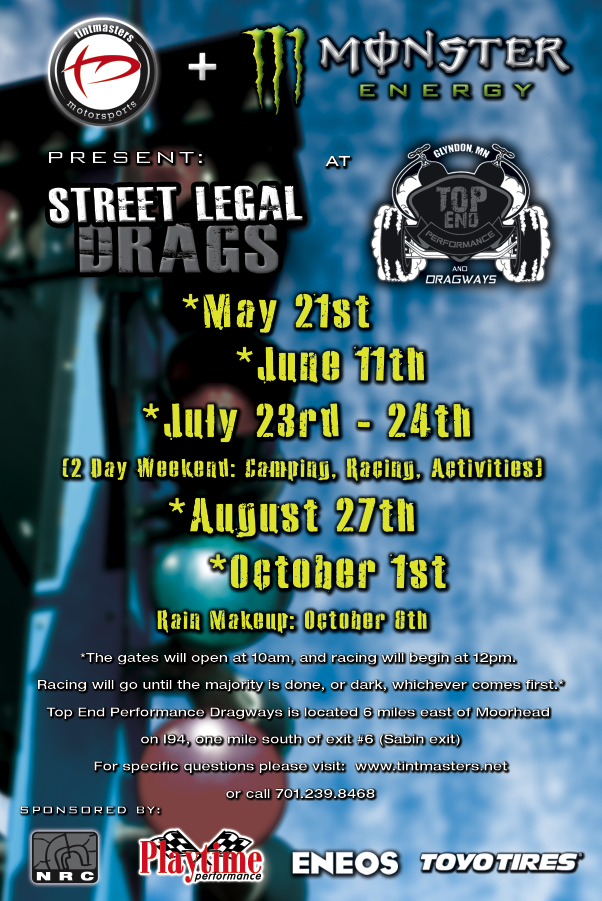 We look forward to seeing everyone out this summer!
Jason Christopherson
Store Manager
Tintmasters