The 2009 Perfect 10 Show on August 22nd is coming along nicely! I have locked down "The Hub" to host the P10 Official After Party 2009. Those that attended the after party last year can attest to the amazing atmosphere and great time experienced by all! The Hub is a unique complex that houses multiple club atmospheres under one roof. If you are into rock music, check out the Monkey Bar:
If you are more into Sake Bombs with a "JDM" atmosphere, check out Forbidden:
Or, if you are there to party, dance and hang out, Vibe has you covered: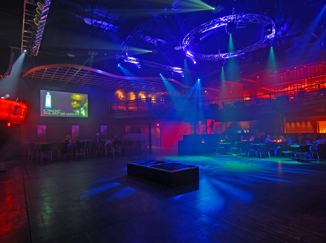 As you can see, the Perfect 10 After Party is a guaranteed success for fun, drinks, and a 'perfect' end to an amazing show!
Registration forms are rolling in, and again we cannot thank everyone for their support. Those that have mailed in their registrations already, THANK YOU. Getting registrations right away allows us to plan for car classes and trophies and makes preparations so much easier. If you haven't sent your registration in yet, please visit:
www.perfect10show.com
, print it and send it to us asap!
I am happy to announce that the 2009 Perfect 10 Show will have a BIKINI CONTEST! With a $250 award going to the winner! We have dressing rooms available for those that would like to compete, allowing them to change before and after the contest! If you have any questions, or would like to sign up, please send an email with your name/phone number to:
modeling@perfect10show.com
. In the title of email, please signify "Bikini Contest". There is no fee for entry, and winner will be chosen by crowd applause! This Bikini Contest is limited to the first 10 women to sign up! Anyone is welcome!
I also have been working on sponsor. This year I am happy to announce Valley Reconditioning as an official show sponsor. They will be present to help with any detailing questions, as well as displaying their finest work.
Subaru of America has also committed to the 2009 Perfect 10 Show. They will have Subaru's new hot vehicles on display, as well as an array of modified Subaru's!
A big addition to this years show, is the support of Rally America. I have been working closely with Vermont Sports Car and their associates to have a display of factory tuned rally cars. With the 2009 Perfect 10 Show only 1 week before the Ojibwe Forest Rally, I have access to the big names in rally. We were able to lock down "Cowboy" Kenny Bartram's Rally car, as well as rally newcomer Brian Deegan's STi (pending no major crashes before the show). These are factory Prodrive cars that will be racing in the Ojibwe Forest Rally the weekend following the Perfect 10 Car Show!
***As a reminder, last year the Perfect 10 Show sold out 2 weeks before the show, and this year we anticipate it to sell out even quicker. If you plan to enter the show, please send your registration in as soon as possible!***
www.perfect10show.com
Take Care,
Jason Christopherson
Perfect 10 Show Coordinator
jason@perfect10show.com